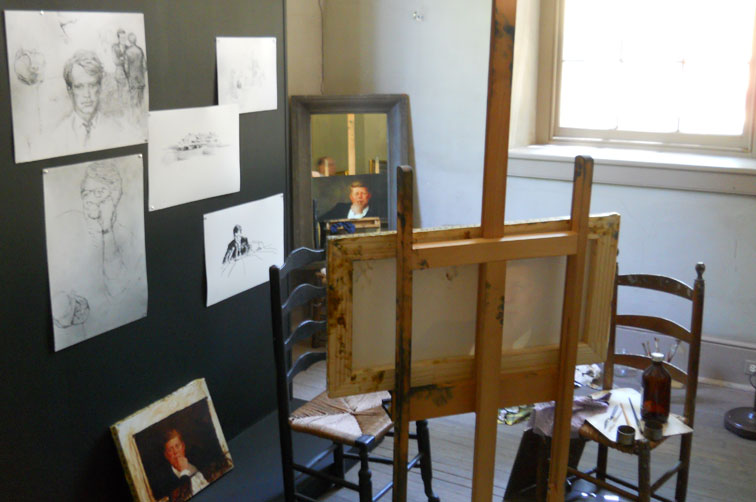 Andrew Wyeth Studio at the Brandywine River of Art Museum
Brandywine River Museum of Art
Although less than 30 years old, the Brandywine River Museum of Art is a place with plenty of tradition. That is, of course, the Brandywine tradition, a rich artistic heritage that began in the late 19th century with the distinguished artist-illustrator Howard Pyle. The works of Pyle and his students make up a large part of the Museum's permanent collection.

Established as a part of the Brandywine Conservancy, the museum is dedicated to preserving the artistic culture and environmental integrity of the Brandywine Valley. Sometimes referred to as the "Wyeth Museum", it is home to one of the largest and most comprehensive collections of works by N.C., Andrew and Jamie Wyeth which are on permanent display.

Tours of the N.C. Wyeth House and Studio, Andrew Wyeth's Studio and the Kuerner Farm are offered from April 4 through November 24 and offer you the chance to experience the places and spaces where the Wyeths created their art, and to see the home where N.C. raised the next generation of Wyeth painters.

The museum is housed in a converted nineteenth-century grist mill on the banks of the Brandywine River. Open 7 days a week and most holidays.

Call the Brandywine River Museum at 610.388.2700 for more information.


Getaway Package No. 2 combines a room for one night with tickets to the Brandywine River Museum of Art and Winterthur Museum and Gardens. Add an additional night to see more and enjoy more Brandywine hospitality for less at the Brandywine Valley Inn.
| | | |
| --- | --- | --- |
| BRANDYWINE RIVER MUSEUM is housed in a converted 19th-century grist mill on the banks of the Brandywine in Chadds Ford, Pa. | Artwork is display amidst weathered beams in galleries that have a unique character all their own. | THE WYETH MUSEUM The Museum is home to one of the largest and most comprehensive collections of works by N.C., Andrew and Jamie Wyeth which are on permanent display. |
Other Brandywine Valley Attractions