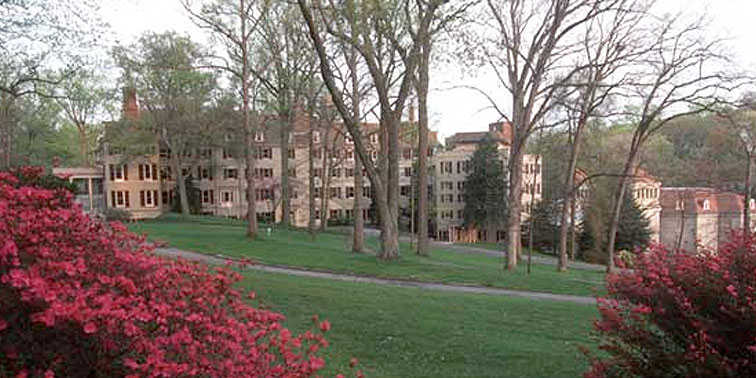 Winterthur is the former estate of Henry Francis duPont.
Winterthur Museum & Gardens
The former estate of Henry Francis duPont, Winterthur has been described as America's most elegant adventure, an incomparable experience. Just minutes from the Brandywine Valley Inn, the museum houses a collection of collections - more than 89,000 decorative objects made or used in America between 1640 and 1860, including furniture, textiles, clocks, silver, needlework, porcelain, Oriental rugs and paintings.

Summertime brings to life natural landscapes, forest parks and exhibitions that enrich as well as enchant. And at harvest time, the foliage can only be described as breathtaking. The authentic 18th & 19th century Yuletide decorations and austerely beautiful vistas of the winter landscape are truly inspiring. In the spring, Winterthur energizes the Valley with unique events, concerts and garden tours. Winterthur's Gardens offer a natural landscape featuring acres of rare azaleas,rhododendrons and numerous other exotic and native plants.

In October, 1992, Winterthur celebrated the largest addition ever made to the collection with the opening of a new exhibition building. The three new floors have been designed to complement the 196 period room settings in the main museum. Though not required, Winterthur offers guided tours through the main museum and reservations are recommended. If you're any sort of a history enthusiast,this attraction offers many special hours of entertainment and delight. Open 7 days a week and most holidays.


Getaway Packages No. 1, 2 & 3 combine a room with tickets to Winterthur and other attractions. Click and compare.
| | | |
| --- | --- | --- |
| WINTERTHUR, An American Country Estate; - See an unsurpassed collection of antiques and Americana, the Campbell's Soup Tureen Collection on permanent display, period rooms, the expansive gardens. | AUTUMN FOLIAGE on display at Winterthur. The gardens are magnificent no matter the season. | WINTERTHUR'S LIBRARY was established in 1952 to furnish staff, students, and the general public with research materials. It has become a recognized center for the advanced study of America's artistic, cultural, social, and intellectual history from colonial times into the 2Oth century. |
Other Brandywine Valley Attractions