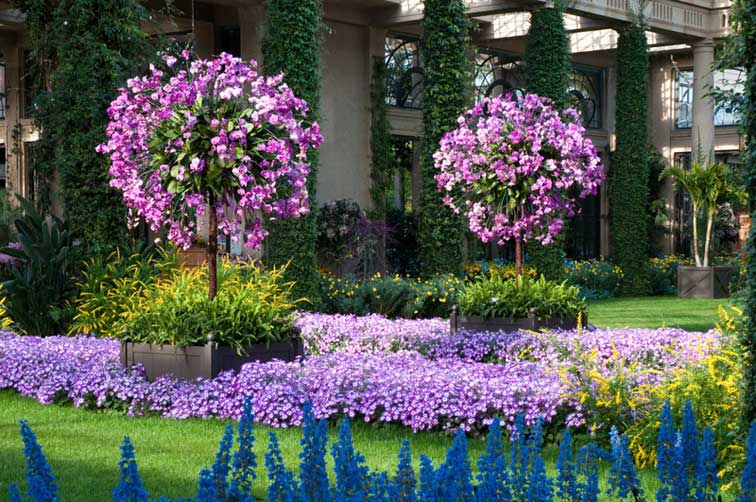 Orchid Extravaganza in the Conservatory
Longwood Gardens
Once the country residence of Pierre S. duPont, Longwood Gardens features 1,050 acres of gardens, woodlands, meadows and greenhouses. 11,000 different kinds of plants can be found on its grounds and in its conservatories.

Longwood is a wonderfully enriching cultural experience year-round. In autumn, you'll marvel at the chrysanthemum displays and golden fall foliage. During Yuletide, their world famous Poinsettia Display and "not to be missed" Christmas Tree Lane mark the true beginning of the holiday season. During the winter months, more than five acres of indoor conservatories (including tropical, contemporary and orchid environments) provide an inspiring rest from the chilling cold outside.

In springtime, Longwood quite literally bursts with color as nature begins its yearly rise from winter's hibernation. Longwood's most spectacular attraction is arguably the Main Fountain Garden, inspired by the Chicago World's Fair in the late 1800s and often described as breathtaking, especially during the summer evening fountain displays.

A world-class attraction and must-see for anyone who loves nature at its very finest. Open 365 days a year.


Getaway Package No. 5 combines your room with tickets to Longwood Gardens. We have other packages that bundle your room with tickets to Longwood Gardens with tickets to Winterthur, Hagley Museum and Brandywine River Museum of Art. Stay longer, see more and enjoy more Brandywine hospitality for less when you stay at the Brandywine Valley Inn.

THE ROSE GARDEN is one of many styles of gardens you can see and enjoy at Longwood Gardens.

FESTIVAL OF FOUNTAINS. The Festival begins in May with daily hours from 9 am to 6 pm and extended evening hours three nights a week.

LONGWOOD'S EVER BLOOMING CONSERVATORY
Over a thousand Easter lilies trumpet the season and fill the Conservatory with their signature fragrance and stately flowers. Each season brings a new display more breathtaking than the last.
Other Brandywine Valley Attractions